Denver Landmark Designation for Cadillac Service Building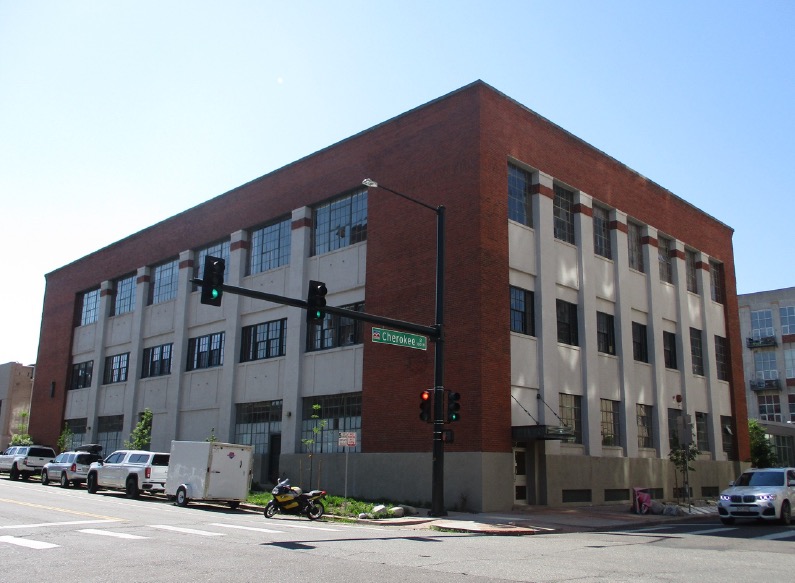 The Cadillac Service Building at 1090 Cherokee Street was designated in 2022 as a Denver Landmark. The property is an example of Late 19th and Early 20th Century American Movements: Chicago style architecture and was designed by the prominent Denver architectural firm Fisher & Fisher. Upon completion in 1921, the service building was state-of-the-art and offered a comprehensive menu for Cadillac customers, including a service salesroom and departments for quick service, repairs, painting, and trimming. Each department had a wash rack to ensure that, no matter the level of service, customers would drive away with a clean car. Customers driving to the building were admitted by a doorman through electric drive-in doors, while another entrance allowed access by foot. An electric automatic elevator provided customer access to all floors, and customers were provided with a dedicated telephone line, while an internal phone system, gravity tubes, and speaking tubes connected various departments.
2700 Wewatta Way, Denver
Miniello Consulting is proud to have had a role in both of the affordable housing developments mentioned in this Denverite article. The company prepared the HUD Environmental Assessments, navigating a variety of unique challenges for each.
City of Salida Historic Survey Plan
Miniello Consulting and frequent teaming partner Fellsburg Holt & Ullevig paired up on the historic survey plan for the City of Salida, Colorado. Completed in June 2022 using State Historic Grant Funds, the plan provides the community with an understanding of where historic resources are located, where additional resources are likely to exist, and the strategies needed for completing the full documentation of properties within the community. The Historic Preservation Commission adopted the plan in Resolution No. 28 (Series 2022) on June 21, 2022. The full document can be found on the city's website.